My name is Jon Henderson and I am a professional therapist and experienced psychotherapeutic counsellor in West Sussex, covering the geographical area between Brighton & Hove, Horsham, Crawley, Haywards Heath and Burgess Hill. I also offer East Sussex counselling.
Whatever your reasons for considering therapy, I offer a supportive and confidential space for you to explore what you think and how you feel, without fear of judgement. We can agree to work on a short-term or longer-term basis, as necessary.
Counselling and therapy services
Every day, millions of people are met with challenges that they silently struggle with or fail to resolve on their own. I routinely work with adult clients who come to me with a wide range of mental ill-health issues that I am highly qualified and trained to help with. These include
Whether you feel challenged in your marriage or partnership, are suffering from anxiety or stress, have experienced a life change or bereavement, or are struggling with substance abuse, the way you handle things is vital to safeguard your mental wellbeing, physical health, your relationships and sense of fulfilment in life.
Using two approaches in my counselling and Sussex psychotherapy practice – Person Centred Therapy and Transactional Analysis (TA) – I can help you work through your thoughts and feelings, establishing what changes you want to make to your life, and move towards your stated goals.
Person Centred Therapy is a humanistic approach that considers everyone as having an innate tendency to develop towards their full potential, which may become blocked or distorted at certain times. We will work together to improve your understanding of your own feelings so that you can reconnect with your inner values and sense of self-worth.
Transactional Analysis (TA) is one of the most accessible forms of modern psychology, designed to encourage personal growth and change. As a fundamental therapy for achieving happiness and reaching your full potential, we will work together on problem solving behaviours, finding day-to-day tools to provide constructive, creative solutions.
Through our sessions together, we can investigate and attend to the specific issues impacting on your emotional health and wellbeing, helping you to make positive changes in your life.
Sussex psychotherapy and counselling sessions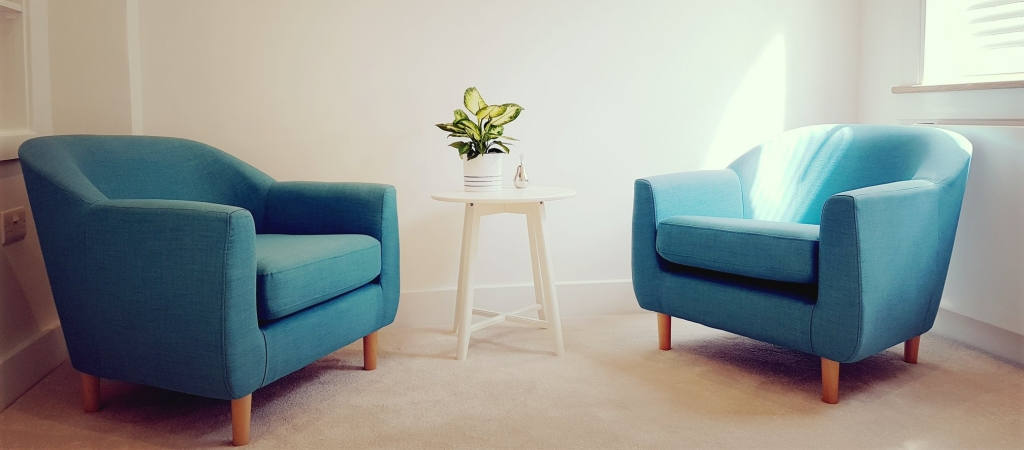 I offer counselling and psychotherapy in Sussex in the following strategic locations:
Hassocks, West Sussex
Alongside my private practice in Hassocks, I work from The Heeler Centre, situated next to Hassocks train station. This location is ideally placed for clients throughout Mid Sussex including Hurstpierpoint, Ditchling, Plumpton, Burgess Hill and Haywards Heath.
Hove, East Sussex
I provide physiotherapy counselling sessions at the Martlets Hospice, Wayfield Avenue, Hove, which is within easy reach of anywhere in the city of Brighton & Hove and the surrounding villages, as well as Lewes and Worthing.
Crawley, West Sussex
I also offer therapy and bereavement counselling at St Catherine's Hospice, Malthouse Road, Crawley, conveniently located for Crawley, Horsham and the Gatwick area.
Our first appointment will take up to about 1 hour and is offered at a reduced rate of £20. This is a chance for you to evaluate whether you feel comfortable with me as your counsellor, while I have the opportunity to discover more about you so I can be sure that I can provide the right therapy for your needs.
When we decide to start ongoing therapy sessions, these will be scheduled for the same place and time every week. I charge £50 for a 50-minute individual session, and £75 for a 90-minute couples session. If needed, I can offer flexibility including early morning or late evening sessions. If you need financial assistance and would like to enquire about low-cost sessions, please contact me for details.
About Jon Henderson
I have undergone extensive counselling and psychotherapy training and hold a Postgraduate Diploma in TA (Transactional Analysis) alongside many other qualifications. Since 2006, I have been working within a 12 Step Program for Alcohol Addiction, and I have many years' experience of providing therapy and counselling for addictions including eating disorders, substance abuse, gambling, gaming and sex addiction.
In addition to my private practice in Mid Sussex, I also work as a Grief Counsellor at the Martlets Hospice in Hove, St Catherine's Hospice in Crawley and the MIND mental health charity in Sevenoaks, Kent.
Get in touch
For more information about Jon Henderson's Sussex counselling and psychotherapy services or to book an initial consultation in Hassocks, Hove or Crawley, please don't hesitate to get in touch. Call me direct on 07470 785725, email hello@jonhendersontherapy.com or send me a short message through the Contact Form.